Mile High Country Q & Brew featuring Rising Country Artist Adam Doleac
October 7 @ 6:00 pm

-

10:00 pm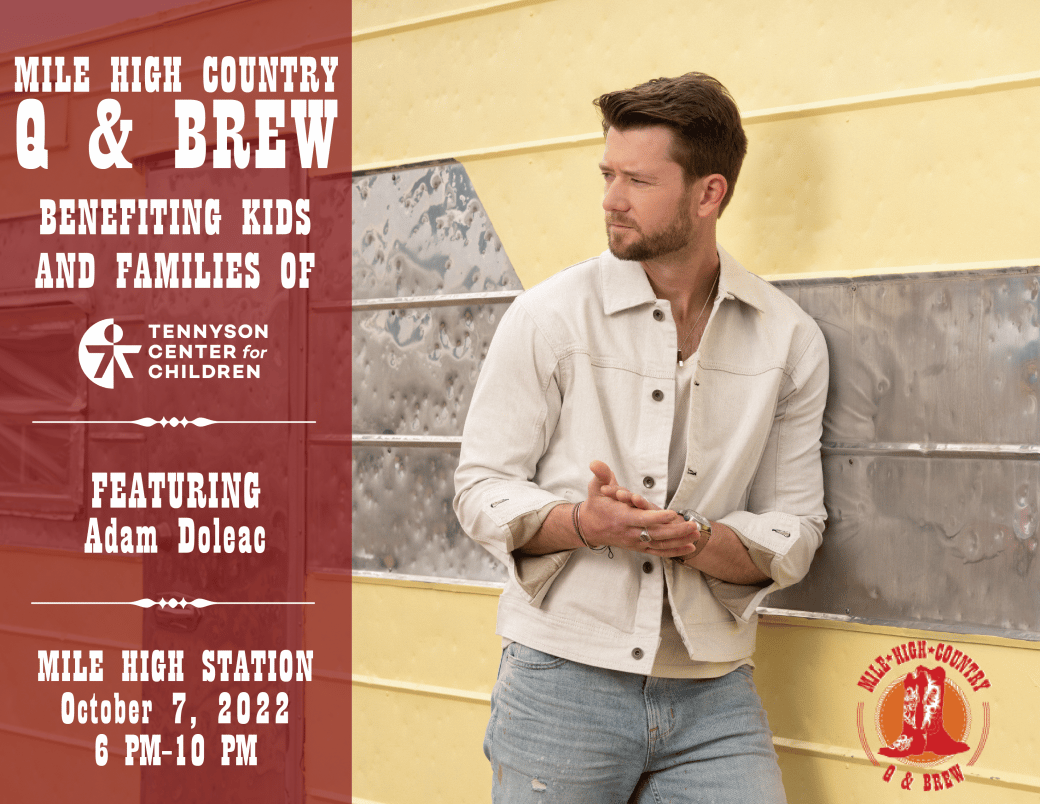 Mile High Country Q & Brew Returns with Rising Country Artist Adam Doleac
The annual Mile High Country Q & Brew Benefiting Kids and Families is back for the 12th straight year this October. The event, hosted by Tennyson Center for Children at Mile High Station, will feature a performance by rising country artist Adam Doleac paired with local food trucks, specialty cocktails, red carpet photos, a whiskey pull, and live and silent auctions. All proceeds will support Tennyson's mission of working with every child and family impacted by trauma. New this year, guests will have the opportunity to ride a mechanical bull. 
EVENT DETAILS:
Mile High Station
2027 W. Colfax Ave
Denver, CO 80204
Friday, October 7, 2022
Doors: 6:00 PM
Concert: 8:00 PM
EVENT WEBSITE AND TICKETS: www.milehighqandbrew.com
$35 General Admission Ticket: Includes admission to the event and concert.
 $145 All-Inclusive Ticket: Includes admission to the event and concert plus exclusive access to an open bar and complimentary dinner from local food trucks (HESHER BBQ, Good Stuff!, and Dapper Doughnut).
About Tennyson Center for Children
Tennyson Center for Children opened in 1904 as an orphanage for kids in Colorado. Over the years, Tennyson has evolved to support kids and families impacted by neglect, abuse, or trauma. Our programs help children realize their boundless potential through prevention, treatment, and ongoing care. More info at tennysoncenter.org.
About Adam Doleac
 Adam Doleac is a native of Hattiesburg, Mississippi who fell in love with singing during his off– time from playing baseball at the University of  Southern Mississippi. Adam Doleac, his debut EP, arrived in June 2017 and was praised by outlets like Rolling Stone Country and Billboard. His new songs follow his major label debut EP, Famous, which arrived via Sony Music Nashville in April 2020. Praised by outlets including Sounds Like Nashville and Roots Music Magazine, who called it a "collection of Doleac's finest moments," the six-song set includes his current single at radio,[LK1]  "Whiskey's Fine," as well as the project's critically-acclaimed lead single and title track, which topped Sirius XM's The Highway Hot Country Countdown and impacted country radio as one of the week's most-added songs in January 2020.  With his latest two tracks, "Another" and "Meet Me in the City," he updates his fans on where he's headed next, musically and personally. More info at adamdoleac.com